Sewing Styles
Quick Stitch Banners offers a wide range of sewing styles to fit you and your customers' needs and specifications.
All banners are sewn with white polymatic thread on our double lock stitch industrial sewing machines, which gives you durability and a professional appearance to your finished banner. Let our experienced staff know what product, color, finished size, quantity and direction; horizontal or vertical, you would need. All banners will be finished with #2 brass grommets. Nickel grommets are provided upon request. Most banners will ship out the same day the order is received. Black thread may be used, if requested, with a $10.00 color change fee.
Hem
Allow 1 ¼ hem to all sides.
No web: Double lock stitch
With web: 1" flat polywoven material which will give your banner added strength and durability.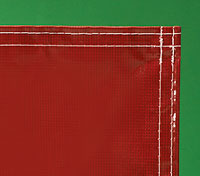 Rope - Webbing Extended
Webbing sewn throughout banner and extended out of the corners for hanging or tying.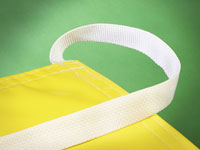 O-Rings
1" welded ring attaches to the corners of the banner with white webbing.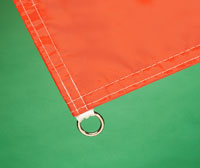 Pole Pockets
Please specify the outside diameter of the pole.
½" Pole
1 ½" of extra material per pocket.
1" Pole
3" of extra material per pocket.
1 ½ " Pole
4' of extra material per pocket.
2" Pole
4 ¾" of extra material per pocket.
2 ½" Pole
5 ½" of extra material per pocket.
3" Pole
6 ½' of extra material per pocket.
Pockets can be added to any or all sides, per specifications.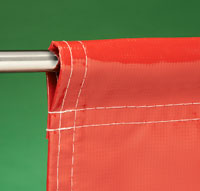 Gussets
Gussets are reinforced triangles of banner material which are sewn into the back of each corner for added strength and durability.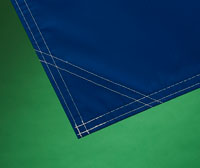 Put Together
Extra Large Banners
Panels are sewn together first then the perimeter is sewn.
Digital Printed Banners
We will make every effort to match each panel's graphics.

Please call our staff for special instructions before printing. We will explain our sewing specifications.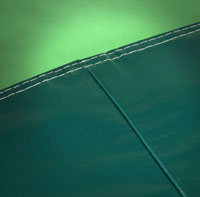 Pennants
Can be sewn with or without pole pockets.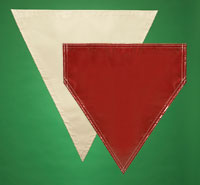 Grommets
#2 Brass or Nickel. All Banners are produced with Brass grommets; Nickel upon request with standard grommet spacing. Let us know if you need special grommet placement.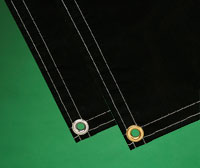 Sew On Velcro
Hook or loop Velcro in black or white can be sewn onto the front or back side of the banner. Please specify.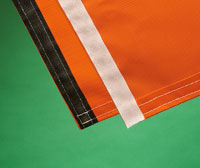 Multi-Color Banner
Any color combo. Please provide dimension of each color and sewing style.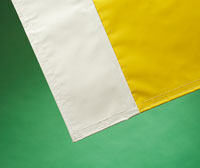 Cut Only
Raw edges not sewn. Please specify exact size needed.

We will make every effort to prevent damage to your supplied printed material, but cannot be responsible for damage during the sewing process, to print alignment on put together, mis-routed or lost from shipping carriers.