Custom Vinyl Table Skirts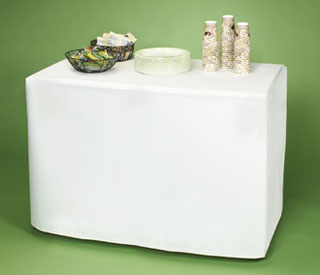 Top, front and sides are sewn, leaving the back open. Height, width and depth needed.
Supply us with the dimensions of your table and we wlll create a custom fit table skirt to make your presentation professional.
Great for: Trade Shows, Registration Tables, Fundraising Events, and more.
Benefits:
Display your event or company logo on front
Store boxes and unused literature underneath
Create a professional presentation at your next event

Why Choose Quick Stitch?

FAST TURNAROUND!
You can count on Quick Stitch Banners for the Fastest Turnaround times in the industry! From the time we receive your order…to the time it takes to process it…to the time we finish and ship your order back…is all in one swift motion. We understand the meaning of deadlines and we do everything possible to meet or exceed them. We know that our reputation is a reflection on your reputation and we take that quite seriously!

DEPENDABLE SERVICE!
At Quick Stitch Banners, you can count on Dependable Service! Our staff has the skills and knowledge to follow your precise directions right down to the very last detail. Or, if you need assistance, our Customer Service Agent can offer reliable and trustworthy guidance, so that you end up with the perfect end product. With a variety of different stitching techniques and grommet positions available, just ask and we will offer our expert suggestions.

COMPETITIVE PRICING!
Quick Stitch Banners offers the most Competitive Pricing for banner finishing. Our price structure is designed to build customer loyalty and to get repeat business from our satisfied customers. We offer a premium product at a lower than expected price in the hopes that you come back again and again. We also offer discounted rates to our most loyal customers!